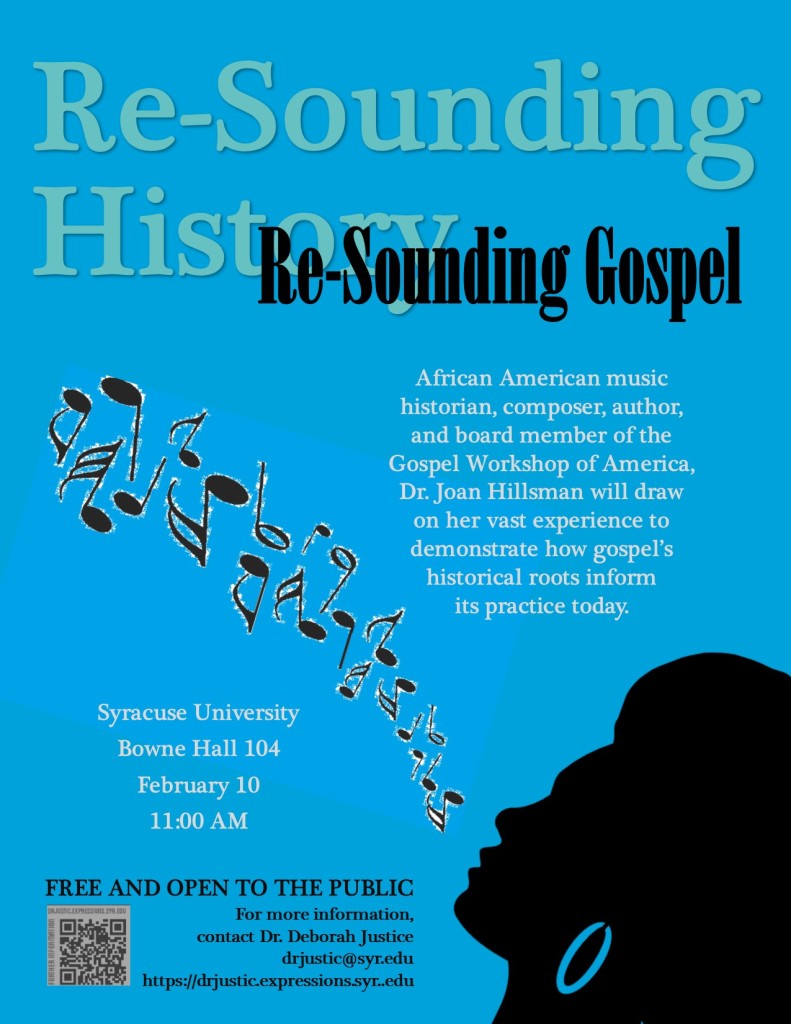 Dr. Hillsman (bio below) presented a lecture demonstration on historical sources and influential recordings and musicians in gospel music at Syracuse University. Her presentation ran in conjunction with Dr. Sydney Hutchinson's "Multicultural Musics of America" course in the Department of Art and Music Histories.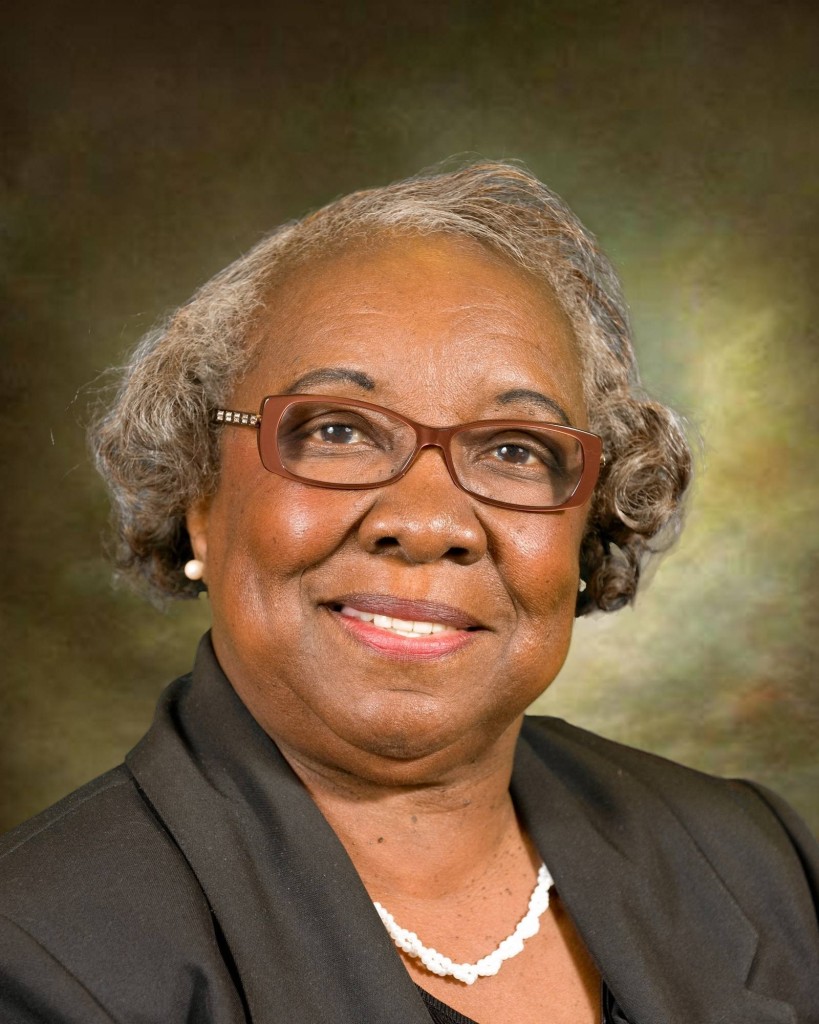 Joan Rucker Hillsman is a native of Anderson, South Carolina and matriculated at Howard University, Catholic University, and The Union Institute, Cincinnati, Ohio, earning a Bachelor, Master of Music Education and a PhD, and worked on a special Afro-American Music Project at Harvard University with the late musicologist, Professor Eileen Southern. Dr. Hillsman is a lecturer, African American music historian (focusing on her dissertation on gospel), composer, author of several books on music and education, (her latest, Gospel Music: An African American Art Form – McGraw Hills, Publisher), and a well-known Church Music Workshop Clinician and consultant with international recognition. She is on the Academic Board of the James Cleveland Gospel Music Workshop of America (GMWA) where she serves as Class Supervisor and Scholarship Chairperson. She has won the Dean's Award for two consecutive years in the GMWA and is currently serving on the GMWA National Board of Directors. She has served as Adjunct Professor for several colleges and universities (Doctoral Committees). Dr. Hillsman hosted a weekly Radio Show, "Gospel Music Spotlight" on WYCB Radio in Washington, D. C. for seven (7) Years, and worked as consultant for Gospel Promoter, the late Mancel "Speedy" Warrick, father of the famed Dionne and Dee Dee Warrick, in New York City, screening new recording artists. She was the proprietor of a music studio and awards the "Joan Hillsman Music African American Scholarship" each February, under "Joan Hillsman's Music Network" (JHMN).
Dr. Hillsman retired with honors as Supervising Director for the D. C. Public Schools (1996). Immediately thereafter she was appointed as Professor of Music at Bowie State University and Director of the Bowie State Gospel Choir where she produced their first CD entitled, "Magnify The Lord." Dr. Hillsman was Awarded the "Above and Beyond Award" from Bowie State's Department of Arts and Science. She is Minister of Music Emeritus at New Southern Rock Baptist Church (DC), where she spearheads "The Martin Luther King, Jr." tribute on Dr. King's Holiday each year.  Her travels have taken her to London, Paris, Spain, Sweden, Alex Haley's Village (Senegal, The Gambia), Jerusalem (Holy Land), Israel, and many other places. Her community services and musical awards are too numerous to mention. However, she holds the "Key to the City" of Detroit, Michigan (presented by the Mayor Coleman Young), listed in several "Who's Who" Directories by Marquis, won "The Washington is a Capital City Neighborhood Grant", which resulted in "Joan Hillsman's Day in the Nations Capital", and received accolades for forming "D.C.'s First Homeless Choir in Washington, D. C. which resulted in a funded concert series. Dr. Hillsman is noted for training, developing and producing fledgling talents in music and other areas, both young and old. Many of her students and clients have gained professional careers resulting from her continued mentorship. She is a member of Alpha Kappa Alpha Sorority, Sigma Alpha Iota, Gamma Sigma Sigma, Phi Delta Kappa, Lifetime member of National Council for Negro Women and several other organizations. She served as an Alzheimer Support Group Leader in the Washington, DC area for several years.
Dr. Hillsman relocated to Syracuse, New York, June 2009 and immediately began consulting, performing and presenting workshops focusing on gospel music at area churches and for community organizations. In December '09, she produced an original Christmas Cantata entitled, "The Birthday of The King" at Peoples Church (Syracuse). She served as "Co-Producer" of a Live CD Recording with original songs at Bethany Baptist Church. She served on Mayor Stephanie Miner's transitional team on Arts and Culture, Mayor Miner's Syracuse Women's Commission (3 years), Works on several projects and activities for Syracuse University (class lecture demonstrator, Dr. Martin Luther King, Jr. Annual program, and community lecture series and more), Involved and shares her skills with Syracuse Church Music Departments, served briefly on the Paul Robeson Performing Arts Company Board of Directors, established the Syracuse Chapter of Gospel Music Workshop of America (SGMWA), Rev. James Cleveland, Founder, where she has been a pioneer member since its inception (44) years, and chairs the "Collegiate" Division and Director of Academics. Dr. Hillsman coordinates an International Connection Program with colleges and universities who incorporate gospel music and other ethnic genres of music. She established the Joan Hillsman's Music Network (JHMN) who provides extensive services in music. She chaired the "1st Summit for the 105 Historically Black Colleges and Universities" in Washington, D.C, served as a presenter and trainer for Syracuse University's "Say Yes to Education" Summer Institute 2010 and 2011. She once served as a partner to the Community Folk Art Center where she instructed piano, voice, and produced an original Christmas Cantata titled, "The Birthday of The King." She also volunteers in several Syracuse's Onondaga County's programs incorporating "Music as Therapeutic Tool", (provides sessions at several facilities). She is also a certified Alzheimer Support Group Counselor. Her most recent awards were presented by the Links, The Arcenia London Arts Award at CFAC in April, 2012, and The Intergenerational Volunteer Arts Award by the Commission on Youth and Aging, (May, 2012 presented by the Hon. Joanie Mahoney), and recipient of the National Council of Negro Women's Award June 2, 2012. Other awards are too numerous to mention. She is the CEO of Joan Hillsman's Music Network, Inc. (JHMN).
Dr. Hillsman is the proud mother of one son, Quentin Hillsman, Head Women's Basketball Coach at Syracuse University.