September 9, 2014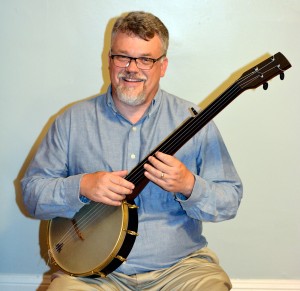 September 9, 2014
7:00 pm
Hall of Languages 107
David Deacon is a historian, folklorist, and musician.  Raised in the folk music revival in Philadelphia in the 1970s, he has played clawhammer banjo since 1974, and also plays Irish tenor banjo, fiddle, and guitar.
Deacon's talk and performance will cover the banjo in early popular and country music.  He will focus particularly on clawhammer banjo, but will touch on other styles including thumb lead two finger style, Charlie Poole's three finger style, and Earl Scruggs's three finger style.
As a historian and folklorist, Deacon is particularly interested in the early history of the banjo, and the development of minstrel and related traditional styles of playing.  He also explores the development of the banjo as an object, focusing on how banjo players and builders have adapted and tinkered with the instrument since its emergence in the 1830s.
Finally, he is interested in how recorded music from the 1920s and 1930s, later recordings of traditional musicians, and published sources informs his and other banjo players' playing.
Deacon will present a lecture-demonstration on the banjo consisting of three major sections:  the development of the five string banjo for minstrel shows in the nineteenth century and late nineteenth century refinements of the instrument; folk banjo styles and early recorded country music, stressing contributions by musicians including Clarence Ashley, Buell Kazee, Dock Boggs, and Charlie Poole; and finally the revival of interest in old-time banjo since the 1960s, and his own experience with the instrument over the last forty years.